Offering safe money payments at Supermarkets, Retail Stores, Coffee Shops and many other business verticals..
About PAYSWIFF
Payswiff is the leading Indian International Fintech player that provides omni-channel electronic payments acceptance solutions to Enterprises, SMEs, Banks, and Mobile Service Operators across 12 countries spanning Asia, Middle East, Africa and Europe. Payswiff is a payment facilitator, provider of outsourcing and white label solutions for electronic payments. Payswiff is also licensed GST Suvidha Provider (GSP), providing convenient tax filing services to businesses In India.

Our presence spans across Asia, Middle East, Africa, Europe and South East Asia.Singapore | Philippines | Russian Federation | UAE | Kazakhstan | Indonesia | Georgia | Belarus | Romania | Ghana

Why Us?

Fully Certified & Compliant System
Experienced & Efficient Team
Proven & Flawless Track Record
Highest security & compliance standards
Ease of use for transacting with portable device
Increased revenue with multiple features & card acceptance
Reduce hassles of cash management with cash transaction logging
Opportunity to pay with Card v/s Cash on Delivery
Reduced transaction failures for Non-Pin compliant device
Safe & Secured method of transactions with required compliances
Easy reconciliation of different payment options on same platform
Automated settlements
Reports & Analytics on the go

Terms and Conditions

One Time Setup Fee is not refundable and is payable upfront at the time of signing of the Service Agreement.
Transaction Charges will be debited from the Transaction Amount on the upfront basis. Service Tax will be deducted at actuals.
Maintenance charges shall be payable in advance with the One Time Setup Fee, for subsequent months shall be payable in advance and is Non-refundable.
Security Deposit is payable upfront at the time of signing of the Service Agreement and it is refundable.
All banks live with Payswiff will be available subject to respective bank approval.
Any new bank that will be integrated by Payswiff will be added to the existing list of banks (subject to bank approval) with no additional cost.
Most Popular Products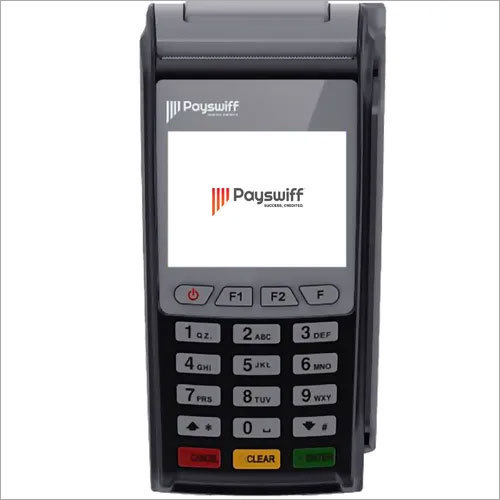 Simple, Efficient & Easy to Use Card Swiping Machine with Printer.